Master Crop Production and Environment
Welcome to the detailed description of the master degree program "Crop Production and Environment". This program is offered by the Faculty of Agricultural and Environmental Sciences (AUF) since the winter term 2011/2012.
The degree program has successfully undergone a procedure of internal accreditation and is entitled to bear the standards of the Conference of Ministers of Culture and the University of Rostock. The internal accreditation is valid until March 31, 2026.
Here you can find a short description of the program and general information about how to and who can apply.
Aims and Characteristics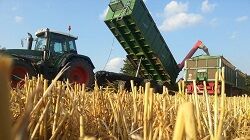 Crop Production and Environment is a science orientated course to be passed in two years. In this course the efficient production of plant-based food and raw materials is focussed. Special regards are given to resource, climate and environmentally friendly methods of production. Objectives of the program:
Develop competences in agricultural sciences, scientific working and researching methods and qualify participants to work in leading positions (with special interest in soil, water, plants, the environment and the interactions between these components).
Design and maintain crop production processes, regarding environmental legislations and the market supply and demand (e.g. the quality and quantity of feed, food and raw materials, up- and downstream enterprises), but also characteristics like landscape, biological diversity, groundwater, CO2-emissions, etc.
Learn how to assess problems of the crop production scientifically (reflect problems, develop hypotheses, (dis)prove results, etc.).
Admission requirements
Prospective students need a Bachelor's degree in agricultural sciences or in a comparable course. Comparable courses are e.g. programs dealing with land use. For further information, please contact the Study Office.
Particularities
The research based education of our students is possible because of our close cooperation with the Faculty of Mathematics and Natural Sciences (MNF) and several external institutions. Together with the original research at AUF these relations enable us to guarantee our students an early inclusion in interesting fields of research.
In the third semester, the students are able to participate in an exchange with another university (or equal institution) in Germany or in a foreign country.
It is possible to start the course Crop Production and Environment in winter or in summer term, however we encourage an enrolment for the winter term. For those who start in summer (april to september), the variety of the compulsory elective modules may be limited. Students should visit the student counsellor for consultancy.
Fields of Activity for Graduates
Fields of Activity for Graduates
At the end of their studies, the students are able to work in different fields of activity dealing directly or indirectly with crop production. That includes scientific, administrative and entrepreneurial activities, also in leading positions. Our students may work in the production, development, marketing, evaluation, certification, etc. of plant-based products intended for e.g. seeding, fodder, food, bioenergy or construction materials. Further, they can work in administrations or for lobby groups and elaborate strategies for sustainable land use and agriculture on a (trans-)regional, national or even international level.